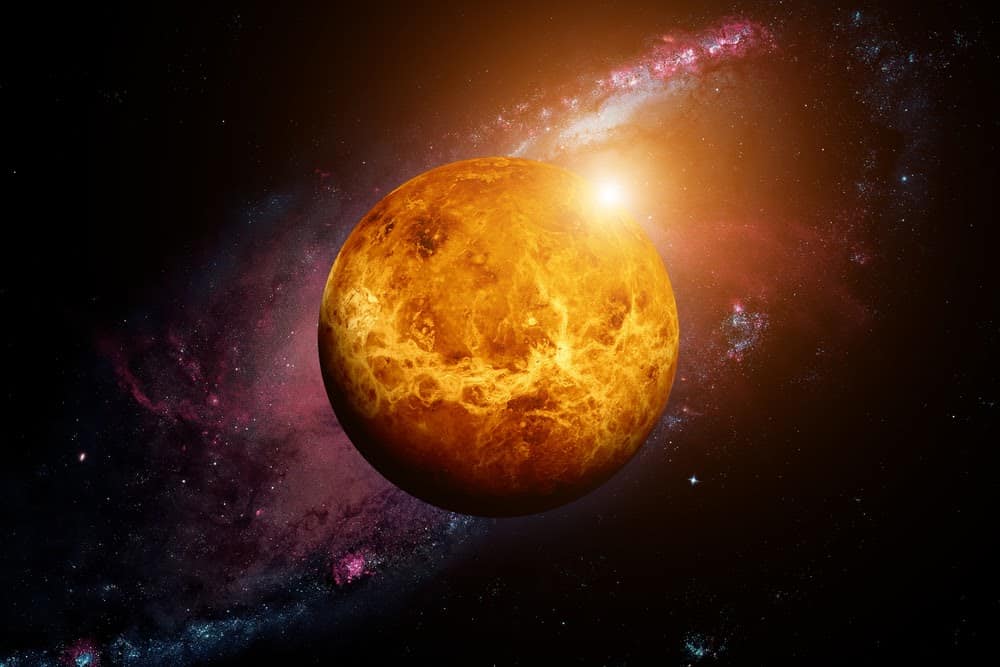 3. Venus is the hottest planet in the solar system, although it is not the closest planet to the sun.
The interior of Venus is made of a metallic iron core that is roughly 2,400 miles wide. Its molten rocky mantle is approximately 1,200 miles thick. Although Venus is not the planet closest to the sun, its dense atmosphere traps heat in a runaway version of the greenhouse effect that warms Earth. As a result, temperatures on Venus reach 880 degrees Fahrenheit, which is more than hot enough to melt lead. Any spacecraft that has landed on the planet only lasted a few hours before being destroyed. Venus's atmosphere consists mainly of carbon dioxide with clouds of sulfuric acid and only trace amounts of water.
The surface of Venus is arid. Ultraviolet rays from the sun evaporate water quickly, keeping the planet in a prolonged molten state. There is no liquid water on its surface today because the scorching heat created by its ozone-filled atmosphere would cause the water just to boil away. Venus is brighter than any other planet or even any star in the night sky because of its highly reflective clouds and closeness to our planet. However, Venus takes 243 Earth days to rotate on its axis, which is the slowest of any major planets. Unusual stripes in the upper clouds of Venus are referred to as ultraviolet absorbers because they strongly absorb light in the blue and ultraviolet wavelengths. They are soaking up a tremendous amount of energy. Roughly two-thirds of Venus's surface is covered by flat, smooth plains marred by thousands of volcanoes.