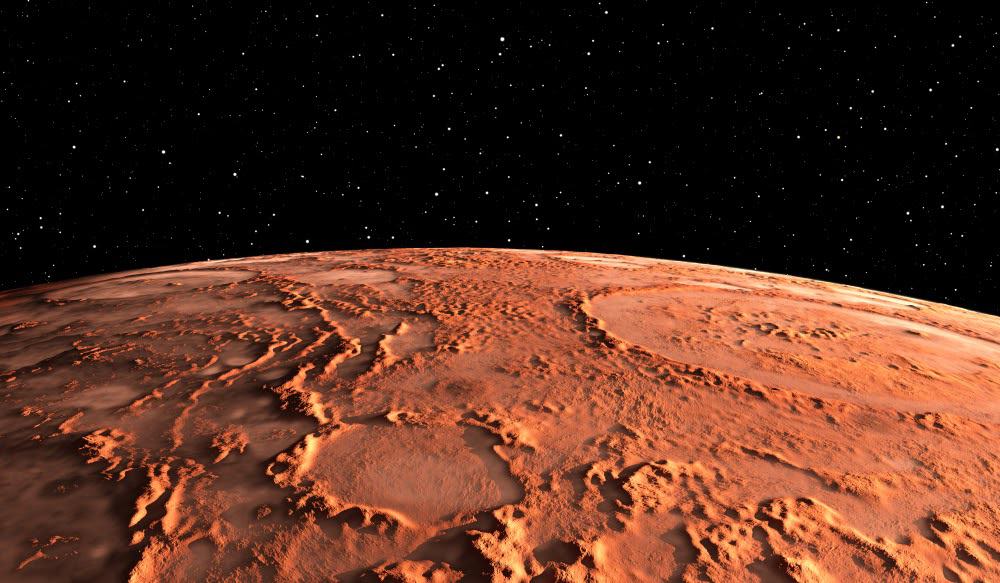 10. Mars is a small, barren planet with a thin atmosphere composed of 95 percent carbon dioxide.
The atmosphere on Mars is 100 times thinner than Earth's. Without a thermal blanket, Mars is unable to retain any heat energy. On average, the temperature on Mars is roughly negative 80 degrees Fahrenheit. In the winter, the temperatures can get down to minus 195 degrees Fahrenheit near the poles. However, on a summer day, the temperatures might get up to 70 degrees Fahrenheit. At night, the temperature can drop down to a shocking minus 100 degrees Fahrenheit. Frost forms on the rocks at night. However, as dawn approaches and the air gets warmer, the frost turns to vapor. There is a shocking 100 percent humidity until it evaporates.
The high humidity can make Mars more habitable if the water condenses to form short-term puddles in the early morning hours. The moisture levels of Mars is tied to temperature fluctuations. At night the relative humidity levels can rise to 80 to 100 percent, with the air sometimes reaching atmospheric saturation. However, the daytime air is far drier due to the water temperatures. Similar to Earth, Mars has four seasons because the planet tilts on its axis. The seasons do vary in length because of the planet's orbit around the sun. In the northern hemisphere, spring is the longest season at seven months. Summer and fall are both around six months, and winter is a mere four months long. During a Martian summer, the polar ice cap, composed mainly of carbon dioxide ice, shrinks and may disappear altogether. When winter comes, the ice cap grows back. There may even be some liquid water trapped beneath the carbon dioxide ice sheets.