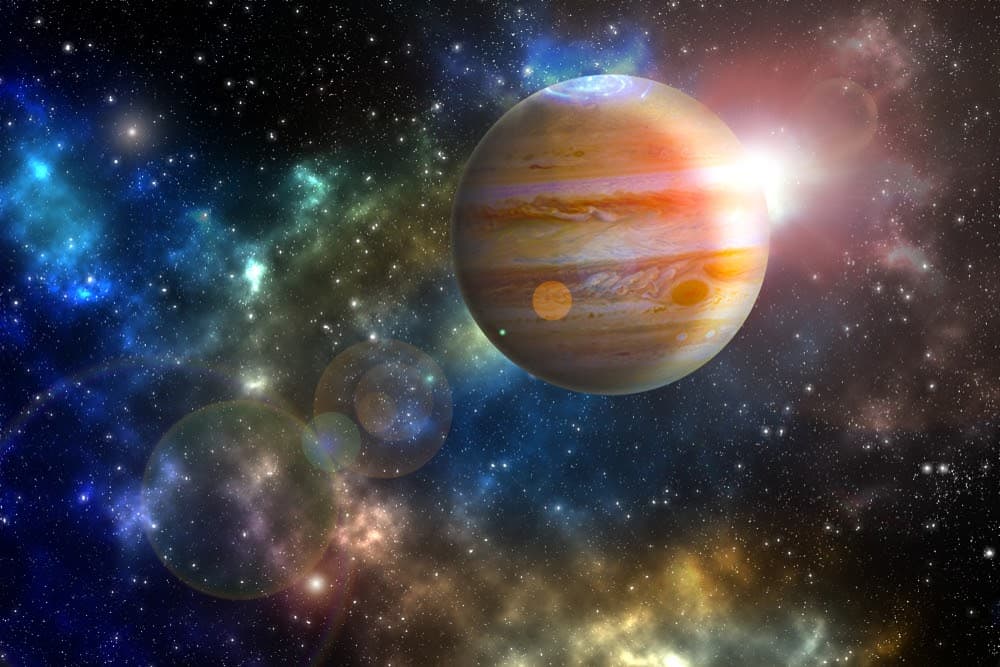 14. Jupiter's east and west jets have created the planet's banded appearance.
Wind speeds on Jupiter can reach incredible speeds, with the swirling clouds giving the planet its beautiful appearance. The high, white clouds consist of ammonia crystals, while the darker ones are water-ice clouds that are deeper. Covered by various chemicals, the clouds are brought up from the deeper atmosphere and react with the sunlight. A combination of white and colored spots appears within the jet pattern. The result is storms that can persist for many years. The banded structure created from the jet streams breaks down near the poles, where the impeccable pattern of vortices has recently been revealed by NASA spacecraft. Whereas the jet streams on Earth can vary with only one or two, on average, in each hemisphere, Jupiter can have at least 30. Reaching speeds up to 300 miles per hour, the 30 jet streams rip across the planet in opposite directions.
Jupiter also rotates differentially, meaning that the equator moves at a different speed compared to the poles. The planet's jet streams can reach approximately 3,000 km down. The differentially rotating jet-stream layer contains about one percent of the planet's total mass. Below the jet stream layer, the world appears to turn more like a solid ball. Jupiter's weather layer, which is the part where sunlight is absorbed and clouds form, is only about 100 km deep. However, the atmospheric flows below the familiar light zones, and the dark belts go 30 times deeper. That supports the long-standing theory that Jupiter's interior contains jet streams that form a series of nested cylinders.