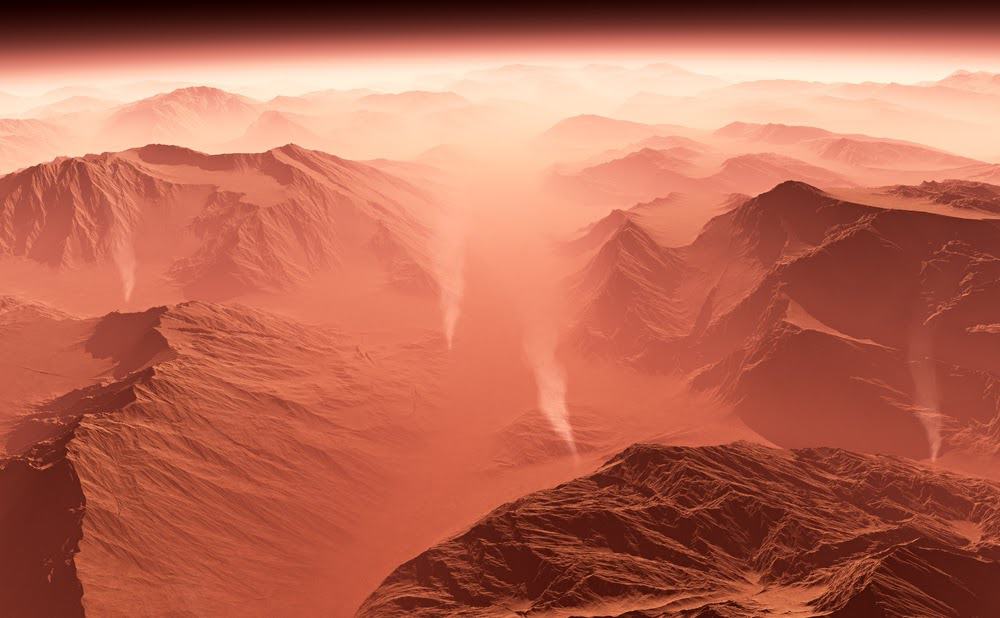 12. Massive dust tornadoes can quickly take over the entire planet of Mars.
Dust devils on Mars form in the same way that they do in deserts on Earth. You need intense surface heating so that the ground can get hotter than the air above it. The heated, less-dense air close to the ground rises and punches the layer of cooler, dense air above. The result is rising plumes of hot air and falling plumes of cool air that circulate vertically in convection cells. If a horizontal wind gust happens to blow through, the convection cells are then turned on their sides and begin spinning horizontally. That forms vertical columns and starts a dust devil. The hot air that rises through the center of the column powers over the whirling air fast enough to pick up sand. The sand that lays on the ground then dislodges the flour-fine dust, and the column of hot air rising transmits that dust all around.
Once the horizontal winds begin pushing the dust devil across the ground, you will want to watch out! Actual dust devils have been photographed from orbit. The dust devils gain their charge from grains of sand and dust rubbing together in the whirlwind. When specific materials rub together, one material gives up some of its electrons to the other material. Since the rising central column of hot air that powers the dust devil carries the negatively-charged dust upward and leaves the heavier positively-charged sand swirling near the base, the charges get separated, creating an electric field. The dust devils are so large that they have been said to be responsible for throwing so much dust into the Martian atmosphere that it might be carrying negative charges high up into the atmosphere as well.