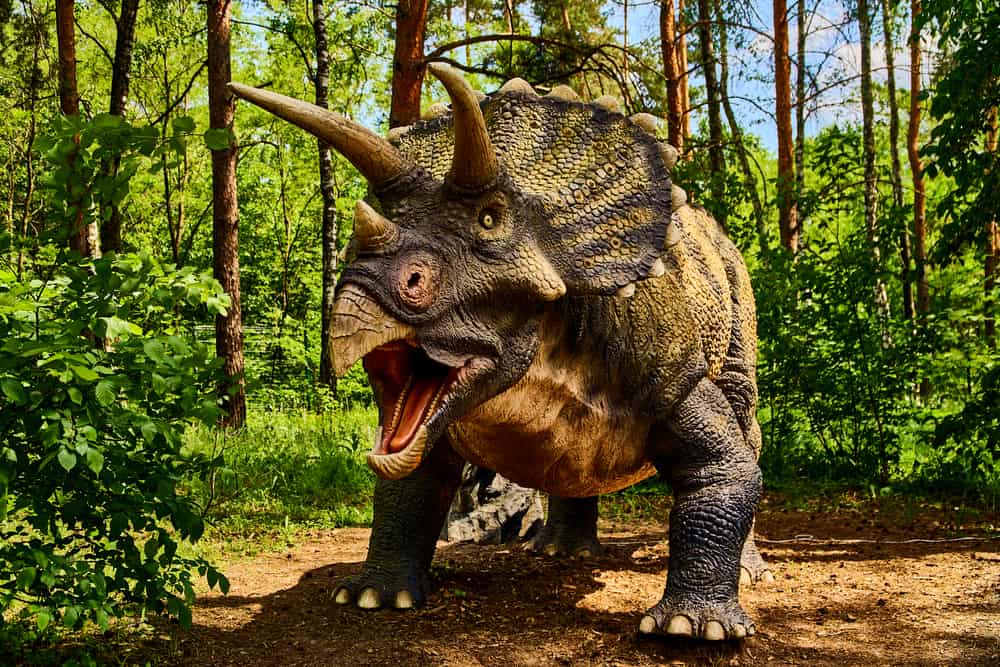 15. Panic Ensued When This Dinosaur Went On The Chopping Block
The triceratops is a well-known type of dinosaur. People make all kinds of merchandise in the likeness of these creatures – from children's toys to t-shirts and even bedding. So what led to the panic? Well, in 2010, researchers announced the triceratops technically didn't exist. They believed it was actually a younger dinosaur of the torasaurus species. The name triceratops was coined at a later date than Torasaurus. Thus, the name of torasaurus took the place of the triceratops. An interesting dinosaur, the torasaurus boasts three large horns over its face. Believed to be an herbivore, the torasaurus would have eaten leafy greens, vegetables, and fruit.
So, whether you prefer the name triceratops or torasaurus, it is the same type of dinosaur. Scientists just go with the name that was created first. The Torosaurus used its three large horns to fend off more enormous carnivorous dinosaurs like the tyrannosaurus rex. In fact, a specimen was discovered in North America in 1997 that had bite marks through a horn that matched the teeth of a tyrannosaurus rex. The horn actually healed from the bite, meaning the torasaurus survived the attack. Amazingly, these creatures could survive an attack from one of the largest and most deadly dinosaurs alive at that time!