Did you know that numerous species of dinosaurs have been found in North America? A vast number of fossils have been uncovered in the United States, Canada and the other countries that make up North America. Rare teeth and footprints from the Middle-Late Triassic Pekin Formation of North Carolina were the earliest examples of dinosaurs found on this continent. Dinosaurs from the Late Triassic Period are more recognizable and easier to identify leading to the discovery of North American species like Tawa, Chindesaurus, Gojirasaurus, and Coelophysis.
The only prehistoric period that did not see dinosaurs in North America was the Middle Jurassic. The Late Jurassic Period was much more populated by dinosaurs. Several states in America have areas of the Late Jurassic Morrison Formation, which is known as the most fertile source of dinosaur fossils in existence. This formation stretches from Colorado, Wyoming, Utah, and Montana down to New Mexico, Texas, and Oklahoma. If you're curious about dinosaurs that roamed the United States and surrounding areas millions of years ago, keep reading! Here's a look at some of the most notable dinosaur species found in North America.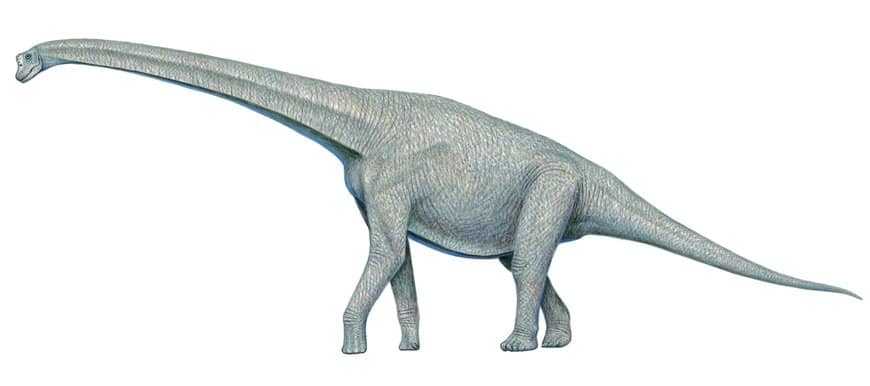 1. Abydosaurus
Abydosaurus is a brachiosaurid sauropod known for its large head and uniquely shaped skull. Its name means Abydos lizard and its fossils were found in the Lower Cretaceous rocks of northeastern Utah. The first complete Abydosaurus skull was discovered in the United States.
This genus of brachiosaurid is known for having narrow teeth. Other species characteristically had broad teeth. These giant dinosaurs were roughly fifty feet long and weighed up to twenty tons. Abydosaurus were known to be herbivores. Their long necks made eating leaves off of tall trees easy. Even though their neck and tail were longer than their body, they balanced well with each other to keep the dinosaurs upright. This giant dinosaur was discovered in 2010.