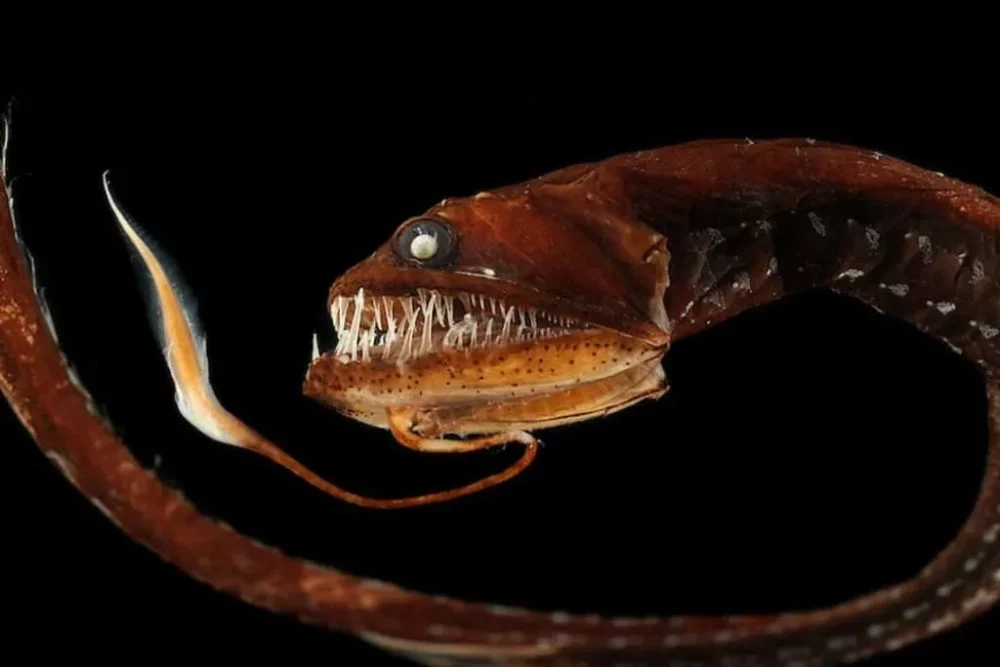 The Ocean's Depths are Teeming With Terrifying Fish
The fish that live in the deep ocean are as resilient as they are bizarre-looking. With little to no light and limited availability of food, these fish have to get creative in their pursuit of prey. Take the anglerfish. Probably the most infamous deep-sea fish, the anglerfish has a glowing appendage growing right out of its head. The fish uses the light to lure unsuspecting fish straight into its mouth full of long, fang-like teeth. Similarly, the dragonfish has a small bioluminescent lure that hangs from its chin. While many deep sea fish are partially or totally translucent, the dragonfish's stomach is thick enough to block the glow of its bioluminescent prey.
Like most menacing fish that inhabit the deep ocean, anglerfish and dragonfish are quite small, measuring only five or six inches. For example, the aptly named fangtooth is only about six inches long, despite having the largest teeth of any fish relative to its size. The slightly larger viperfish is a fearsome hunter that uses its protruding fangs to snare prey in near-complete darkness. Even more nightmarish is the fish's ability to completely unhinge its jaw and trap small fish in a cage of its razor-sharp teeth. But the king of odd sea creatures might just be the gulper eel, whose gigantic, net-like mouth takes up a third of its body.