Throughout history, hoaxsters have been busier than a beehive on a summer day, concocting wild and woolly photos of cryptids. From the Loch Ness Monster posing for a selfie with a kilt-wearing tourist to Bigfoot caught on camera trying out for America's Next Top Model, these photos have raised more eyebrows than a unibrow convention. So the next time you stumble upon a snapshot of Chupacabra doing the Macarena or Mothman sipping a latte at Starbucks, remember, there's more sleight of hand at play here than in a magician's secret garden. Keep those skeptic goggles handy, folks!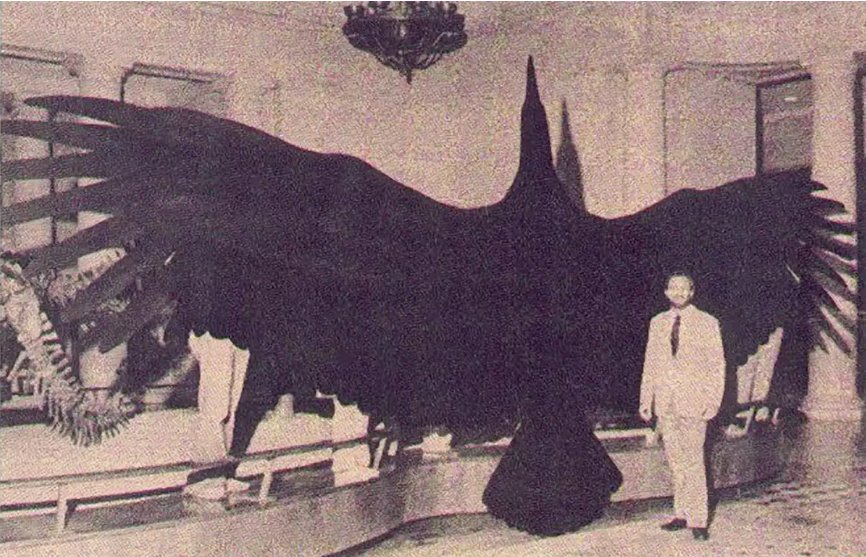 The Thunderbird
The Thunderbird legend intertwines with the ancient beliefs of multiple Native American tribes. From the Pacific Northwest and the Great Lakes region, the stories span hundreds of years. Rooted in Native American mythology, the Thunderbird's colossal form was said to wield the power to unleash lightning from its eyes, while its wings, of epic proportions, produced resounding thunderclaps with each mighty flap.
In the Arizona Territory desert, a gripping tale unfolds from 1890. It stars two cowboys who stumbled upon a colossal airborne creature. True to cowboy nature, they skillfully aimed their rifles at the astounding beast, sending it plummeting from the sky. In an article published in the Tombstone Epigraph, the cowboys hauled the lifeless monster and their trusty steeds into town. There, the creature's astonishing wingspan stretched an impressive 190 feet, while its body spanned a remarkable 92 feet. With smooth skin and wings comprising a dense, nearly transparent membrane, the creature's appearance bore a striking resemblance to that of a pteranodon rather than a mere oversized bird.