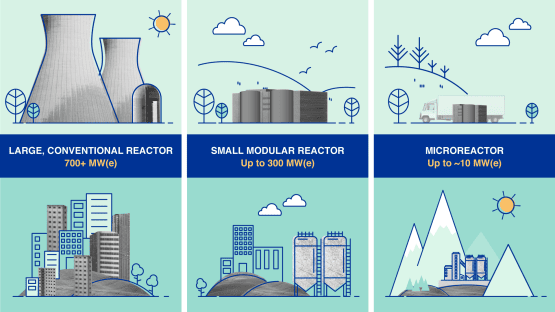 Small Modular Reactors (SMRs)
These tiny reactors can produce a whole lot of low-carbon electricity, enough to fuel large-scale power plants. This new approach to nuclear power aims to build more flexible atomic reactors. It's safer, and more cost-effective than large-scale nuclear plants, but also comes with a consistent source of clean, green energy.
According to the IAEA, "Given their smaller footprint, SMRs can be sited in locations not suitable for larger nuclear power plants. Prefabricated units of SMRs can be manufactured and then shipped and installed on-site, making them more affordable to build than large power reactors, which are often custom-designed for a particular location, sometimes leading to construction delays. SMRs offer savings in cost and construction time, and they can be deployed incrementally to match increasing energy demand." As one of the most cost-effective energy breakthroughs out there, you'd think we'd see more of this around the world (IAEA).