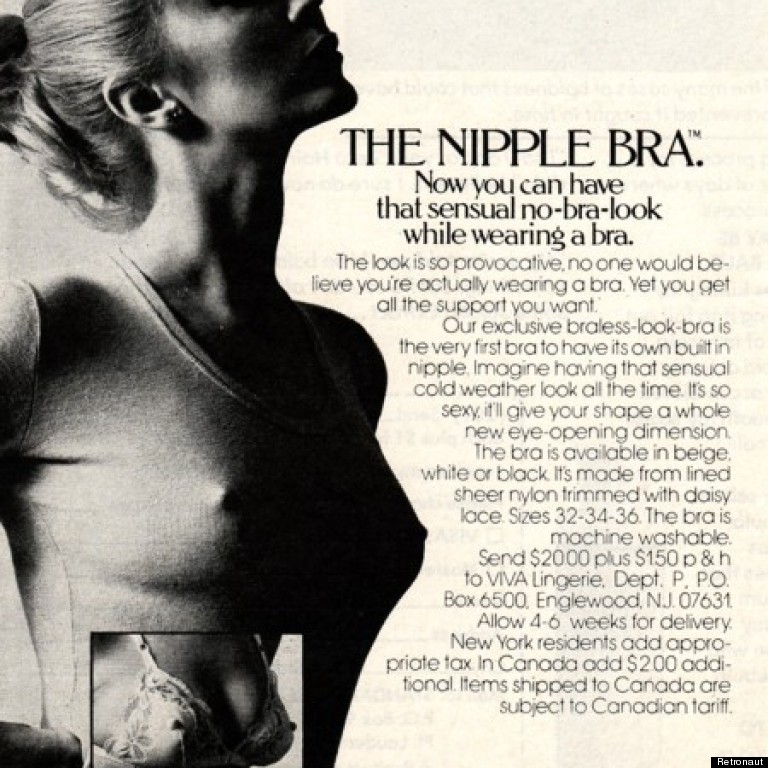 Nipple Bra
"Now you can have that sensual no-bra look while wearing a bra," read the ad for the Nipple Bra, the first (and last) women's bra to have a built-in nipple. I'll be honest, this just seems like the best of both worlds. It was made of nylon, and was even machine washable! $20 for the bra, and $15 for shipping. Apparently it was mail order only. A shame, really. Would have been a real head-turner for a window display. It is hard to imagine a more inappropriate item of dress, but it's not unimaginable for it to see a comeback.
How did we find this stuff? Here are our sources:
Bizarre and interesting vintage inventions from the past, 1920s-1970s. Rare Historical Photos.
In 1929, Spruce veneer bathing suits were described as simple, cheap, and easy to make, yet fashionable and modern. Boban Docevski. 2016.
The Snogometer, a Fantastic Contraption to Measure the Voltage of Snogs, 1965. Vintage EveryDay. 2018.
This 1959 'Anti-Bandit Bag' Promised to Scare Off Thieves—With Smoke. Atlas Obscura. Michael Waters. 2017.
The Nipple Bra Is The 1970s Most Confusing Contribution To Lingerie History. Brie Dias. Huffington Post. 2013.
Bike Keeps Family in Stitches. Vintage EveryDay. 2022.
The Woman's Armored Bra of WWII. Chris Callahan. Guns. 2013.
This Crazy Anti-Distraction Helmet From 1925 Is Still Relevant Today. LMA. Bored Panda. 2018.
Brush and Shine. Don Brinn. The Pantagraph. 2015.
The Simplicity "Air-Conditioned Lawnmower" 1957. Samuel McCall. Wacky Explorer.
The bizarre history of the baby cage, 1934-1948. Rare Historical Photos.
1921 Baby Stroller with Radio. Get Yesterday's News Today.
Adhesive Bras: The stick-on bra swimsuit that was quite distinctive, 1949. Rare Historical Photos.
This piano for bedridden musicians was a real-life 1930s invention. Mandy Shaw Roberts. Classic FM. 2022.
Reading in Bed Without Pillows. Peter Biľak. Works That Work. 2023.
The 1930s 'Pedestrian Catcher' That Promised to End Jaywalking Deaths. Michael Waters. Atlas Obscura. 2017.
Old, Weird Tech: Plastic Snowstorm Face Protectors. Alexis C. Madrigal. The Atlantic. 2010.
The Revolver Camera: A Colt 38 Carrying a Small Camera That Automatically Takes a Picture When You Pull the Trigger. Vintage Everyday. 2017.
This Dash-Mounted Coffee Maker Is Likely the Rarest Volkswagen Accessory Ever. Peter Holderith. The Drive. 2020.
The hard work of selling bomb shelters in the 1950s. CBC. 2018.
Why Goodyear's Bizarre Glowing Tires Were A Failure. Slash Gear. 2022.
Vintage pictures of bizarre vending machines you never knew existed, 1920-1960. Rare Historical Photos.