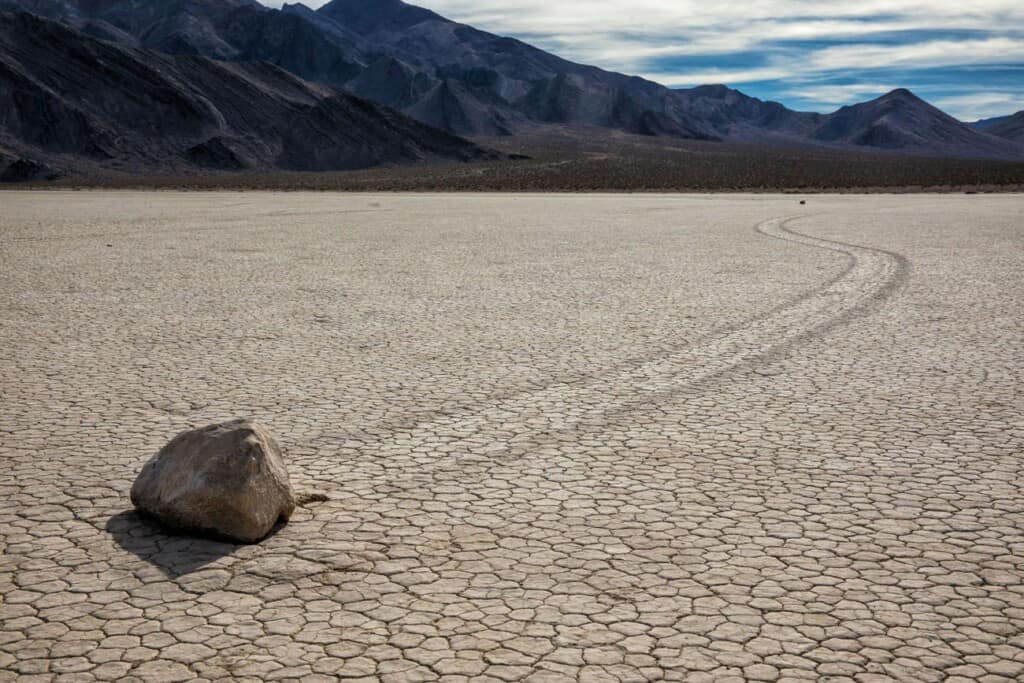 19. Rocks run races in Death Valley.
At this point, you're already familiar with Death Valley, an immense desert where scientists have recorded the hottest temperature ever. However, you may not know that it has a unique area called Racetrack Playa, aptly named for the rocks that seem to race each other. A playa means a dry lakebed, and this one is best known for its strange moving rocks. About ten thousand years ago, the region experienced severe climate changes, which resulted in the lake evaporating and leaving thick mud at least 1,000 feet thick. The desert there is quite fragile, and tracks from the rocks or even tire tracks can remain visible for years after they are made.
The playa is surrounded by mountains, which receive snow in the winter that melts, sending slippery, ice-covered rocks into the playa. When conditions are just right, a windstorm can sweep through and cause the slippery rocks to slide across the surface of the playa. Some of them weigh hundreds of pounds and leave behind tracks to show just how far the wind brought them. Some of the moving rocks have traveled as far as 1,500 feet, though they can sit for a decade or more without moving. Scientists have even set up GPS tracking to monitor the rocks' movement and learn more about this crazy phenomenon!